Paradox Adventurers League Intro
Paradox has its own chapter for D&D Adventurers League as well as a rewards program for new and veteran players. Join us for adventures every Wednesday in the Event Center! Character creation for newbies starts at 6:00. If you arrive after 6:15pm and do not have a legal character, you'll have to use a pregenerated character for the night. Gameplay starts promptly at 6:30pm.
Sessions cost $5 per player, and your first session is free to try out the game. DMs play for free. All players must be at least 13 years old.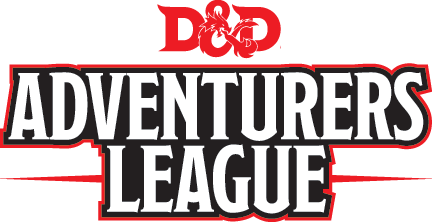 What is Adventurers League?
The D&D Adventurers League is an ongoing official campaign for Dungeons & Dragons. It uses the fifth edition Dungeons & Dragons rules, and features the Forgotten Realms setting. You can play D&D Adventurers League games literally anywhere. Players use the fifth edition rules to create a character and bring that character to games anywhere D&D Adventurers League play is happening.
Campaigns are played in seasons based on the campaign books that are published by Wizards of the Coast. Seasons are independent campaigns so when one season ends another completely different adventure begins! You can jump into D&D with us at any time in the season and we'll get you up to speed.
We're currently in season seven playing through Tomb of Annihilation starting September 9th.
What's the rewards program?
Players and DMs who attend Paradox AL events regularly can build up Paradox store credit to be redeemed for adventuring essentials like pop and snacks as well as larger items like dice, minis, and even books or games! Swing by the store to get a DCI number card and create a Paradox Gold account so you can be registered to play. You'll receive a welcome email with useful documents and character/log sheet templates to help you get started.
Each time you come to play, you'll check-in via a QR code you can scan with your phone or the friendly folks at the counter can get you checked-in.
Click here for extended details and information.
What do I need to play?
The bare minimum you need on your first night to play: pen or pencil, paper, and your DCI number. If you have a 7-dice set, bring it along or you can borrow from your table. You may also want a folder to keep your notes and papers together and a notebook for scratch paper or note-taking. We have books to share with newbies so don't worry about making a huge investment just to try the game.
What you'll want once you're hooked on the game: a 7-dice set and the Players Handbook. Paradox has Chessex dice sets in a million colors and patterns so you can find your perfect match, and we stock Players Handbooks with the other D&D items.
If you have any questions or want to hang out with the community of players and DMs, join us in the Fargo D&D Slack channel. You can request an invite here. We love meeting new people!